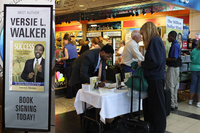 Note – I've nothing against the author (Versie Walker), but when one is touting a book called "Success" and subtitled "How I ended up here," it just makes me wonder.
How I ended up signing books in an airport book stall? That's "success"?
Hmm…
At Ronald Reagan National Airport, Sept. 17, 2010.
Hope he does well…(Some Amazon love)