This is not a year in review piece, it's just a collection of things that struck me over the course of the year.

Favorite book: This would have to be Kurt Vonnegut's A Man Without a Country. This book came out in 2005, but I just became aware of it this year (read my review). Once I did stumble upon it, I purchased and devoured.

It's as close to an autobiography of Vonnegut as we're going to get (unless there is some manuscript waiting to be discovered…), and while not a true autobiography in any sense, it's Vonnegut writing about his life/thoughts in the first person. A very enjoyable – albeit brief – read, but good to spend some time with new (to me) Vonnegut.

Favorite musician: Regina Spektor. I saw the movie 500 Days of Summer (more on this later), and the movie had an amazing soundtrack, with a lot of artists I wasn't familiar with. So I purchased the soundtrack, and two of the tracks – two of my favs – were by Regina Spektor. So I purchased a couple of her CDs, and they are amazing: Soviet Kitsch and Begin to Hope. These are older albums (2004 & 2006, respectively), but new to me.

I don't quite know how to quantify Spektor to those who don't know her – perhaps a mix between Tori Amos (piano) and PJ Harvey (out of the mainstream folk/pop with balls). I love Spektor's staccato beat, especially on "Us." Awesome.

I just ordered a more recent – 2009 – release of Specktor's, Far from Amazon. It got mixed reviews – for some it was bad because it wasn't as pure/raw (voice/piano); others said it was still all Spektor, just with the full studio feel.

I have not received yet; it'll be interesting.

My fav musical artist of this year, even if she has been around for years.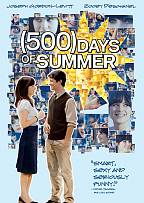 Favorite movie: Saw a lot of good films this year – all on DVD and not necessarily from this year – but the one that stands out is 500 Days of Summer. Quirky, non-linear, great mix of film and illustration, awesome soundtrack (see above).

Best movie ever? Of course not. Just a very watchable (over and over) film.
The Ugly American: The USA, with its vast wealth and international reach, has always been dissed – from some camps – for our intervention. We're always sticking our nose where somebody objects to same.

Whatever.

After 9/11, the mistrust of the US seemed to increase. Understandable (to some degree), as we were engaging in wars in Iraq and Afghanistan, and dragging our NATO allies into same.

But the ugliness – the Islamophobia – that has occurred IN the US has been particularly troubling to me. The Ground Zero Mosque clusterfuck was a great example of the idiotic thinking of so many. Great wrap-up on same at TPM.

The last time something this crazy happened in the U.S. was the deplorable Red Scare/McCarthyism of the 1950s. Sure, Nixon had his Enemies' List and J. Edgar Hoover, with all his paranoia, investigated, well, just about everyone.

But the communist craze – destroying people's lives due to sometimes only perceived communist tendencies is a black spot on American history. And it's very analogous to the Islamophobia going on today. People are defined by one attribute – Communist/Muslim – without regard to any other conditions. Communist bad! Muslim terrorist! Just depressing.

Add to that the unbridled gay-bashing that occurred this year as part of the, uh, debate(?) over the repeal of Don't Ask Don't Tell (DADT), and there was a lot of hate Made in the USA this year, some directed abroad, a lot directed at our fellow citizens.

Not a good year to be proud of your country.
Tech Meme: Smartphones. Yeah, where have I been for the last three years…

It's just that I live and work in the burbs, and when we vacation, we usually hit more rural areas. This summer, we went to Maryland (Chesapeake Bay – rural) and and Washington, D.C.

What struck me – as we rode the Metro, airport buses and just walk the mall – was the sheer number of people constantly texting/reading texts. It seems as if no one gets on the Metro and just spaces out and uses the commute time to just stare out the window and decompress. Nope. Right to the smartphones. Ditto for people on the mall, obviously on lunch. Not much talking, but staring and pecking at the candy-bar format phones.

As someone who has been far from the madding crowd for a couple of years, the change was startling – though not at all a surprise. Folks I work with do it all the time and I don't think a thing about it – it was just with masses of people, just about everyone was heads down, which I had not really seen/taking in before.