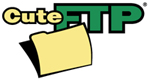 According to this article, FTP is celebrating its 40th birthday today.
Wow.
Big fan of FTP – a fast, dumb, error-challenged protocol that's been around, well, for four decades!
I still use FTP extensively, at work and at home, to just "get stuff done." Mainly at the command line, but many GUI clients work well. Whatever works for you.
Happy B-Day FTP!