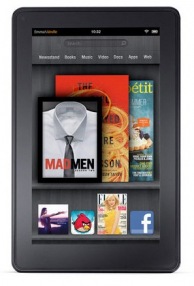 Amazon introduced its Android-based Kindle Fire tablet today.
Priced at $199 (a price that's sure to drop moving forward), this tablet pretty much makes every tablet but for Apple's iPad obsolete.
It's now a two-horse race, with Apple and Amazon splitting the table market share and revenues between them. What the revenue/market share split is hard to say – the iPad is more expensive and highly profitable, but Amazon's offering is subsidized by folks who will then by more stuff from Amazon.
But the bottom line is all other tablets – at least for now – are toast.
High-end users will stick with the iPad, with its more powerful specs and large number of gestures; the newbies ore the non-techies will plunk down the fewer bucks and get a slick tablet to view movies, read books, listen to music and read email.
Amazon retains its e-ink Kindle e-reader, and it's now priced at $79. They're going to move a ton of those, as well.
Amazon seems to have done a really good job setting up for the tablet, with all their cloud services, as well. Apple did the same. The other tablet makers? Not so much.
Both Apple and Amazon make it all about what you could do with the unit, instead of how fast the processor was and so on. Other tablet makers didn't get this, either.
Wonder how many Kindle Fires end up under the Christmas tree this year? I'm betting Amazon'll sell 3-5 million Fires this year. Yes, in just three months. The higher figure is if Amazon does drop the price before the holiday shopping season. (Update: I just read that the Fire won't ship until Nov. 15th, so that'll mean Amazon will still sell quite a few units, but closer to 1 million.)
The tablet wars – for the moment – are over.
Amazon and Apple won.