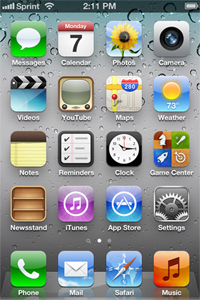 OK – it's been a couple of weeks since I got an iPhone; here are my initial impressions:
The obvious – yeah, it's better than a StarTAC.
Battery life is problematic, and I'm not a heavy phone user. iOS 5.0.1 didn't change anything for me.
The camera is great.
The lack of documentation – there is no owner's manual included – is, to me, weird. Sure, this this the fourth iPhone. Does that mean everyone knows how to use it? While a very intuitive phone – if you know what it should do (gestures, etc) – how do I get pics off my phone? How to upload pic so I can have an old (non-iPhone) pic as wallpaper? Not intuitive. Lots of googling.
Another, more basic, example of how lack of documentation is silly: There are five physical buttons on the iPhone. What do they do??? Not hard to figure out, but, come on…just a drawing with arrows and labels…
Tight integration with iTunes is both good and bad. I'm on a Windoze desktop; probably less problematic on a Mac.
If I turn off my phone, Angry Birds resets to Level 1. Makes me…angry…
Notifications are awesome. I think this is new to this OS (iOS 5); to me, it seems like something that should have always been there. Part of the smartphone ecosystem.
Siri rocks.
I still mainly use it for a phone. It's nice to have email there should I need it, but – generally – that's rare for me. And I'm not into texting, so that's another squandered opportunity.
That's all I gots right now!