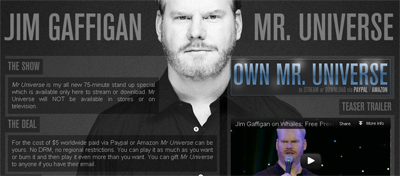 If you've never seen Jim Gaffigan's stand-up routine, well, you should.
He's an observational humorist, in the vein of Jerry Seinfeld and others. He is self-deprecating, and often riffs on food. In the past, he's had hilarious insights into bacon, Hot Pockets and the Waffle House. In Mr. Universe, one of his targets was McDonalds.
And working out.
Hotel indoor pools.
Hotel rooms.
Taking too damn many pictures.
Mr. Universe was a new experiment for Gaffigan: This is available download only. No rental copies; no DVDs online. Five bucks and the MP4 is yours to burn, watch on a computer and so on – no DRM, he just asks you to not to share. I downloaded the HD version, burned to a (single layer) DVD, and it looked pretty damn good on a 47″ TV (some pixalation in shadows/low-light areas).
Worth it to me. Just 75 minutes of sly, understated observational humor.
A lot of days, that's sorely needed.