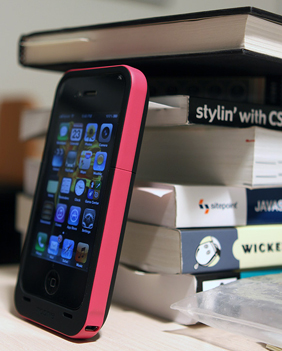 As smartphones get smarter (and suck more battery power), there is a real need for a "flux capacitor" of phone/tablet batteries.
I finally broke down and got a Mophie Juice Pack for my iPhone – I don't use my phone that much, but it is way worse (battery power) than any other phone I've had. When I have a couple calls; do some updates via the phone…10% is gone. What!! (Note: First smartphone for me).
The only color I could get (at the time) was magenta; I like magenta, but I thought it would look a little girlie. Maybe, but I like the power.
I now have a yellow Mophie Juice Pack on the way; yes, packs are heavier. Yes, they double iPhone life.
Kudos.
Won't it be nice when battery life is not an issue?