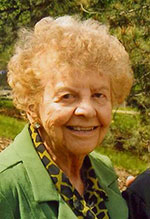 Doris Newlin – my aunt
1918 – 2013
Actually, make that two Christmases, a wake and a funeral.
We did Romy's parents' Christmas on Dec. 24th and 25th down in Valparaiso, IN. These yearly sojourns are extremely secular, immediate-family affairs – more of an excuse to eat and drink than much else. Sushi, German cold cuts, herring salad, BBQ chickens, filet mignon, brats and more. And we brought home a fridgeful of leftovers.
I just got back from my Dad's house, where we held the Geistlinger Xmas palooza. More of a traditional affair, with a tree and other decorations, lots and lots (and lots – basically, too many) gifts and good food (again, almost too much…).
For my side of the family, this holiday was a bit more somber. My 95-year-old aunt, Doris, died on Dec. 21st after a year of health difficulties. Had she hung on for another month, she would have hit 96. We had the wake for her the day after Christmas and the funeral the following day (yesterday/Friday).
While always a blow to lose a family member – especially close to an event in which the member was to participate (our Xmas) – Doris lived a long life, outliving two husbands and basically doing more in a day than I do in a week, pretty much up until the last year of her life. By all means mourn the loss, but don't forget to celebrate the life!
She'll be missed, as will her cookies – she was a great baker. You know how when you're in college and you get a "care package" from home? Food, money, socks and so on? Well, my Aunt Doris would send tins and tins of awesomeness. When a package from her arrived, well, I was everybody's best friend.
Fortunately, I still have a few days off before I go back to work, so perhaps – perhaps – I can get some (one?) of the projects I had hoped to at least make a stab at before it's back to the regular routine.
All in all, both a very normal Xmas and not-so-normal Xmas season for me this year. And right around the corner is 2014.
What ya got in store for us 2014?