More detail to follow, but I replaced the RTA Sauder dark bookcases with real wood (cherry veneer) bookcases from 57th Street Bookcases (the Evanston, IL store).
Good choice.
Before: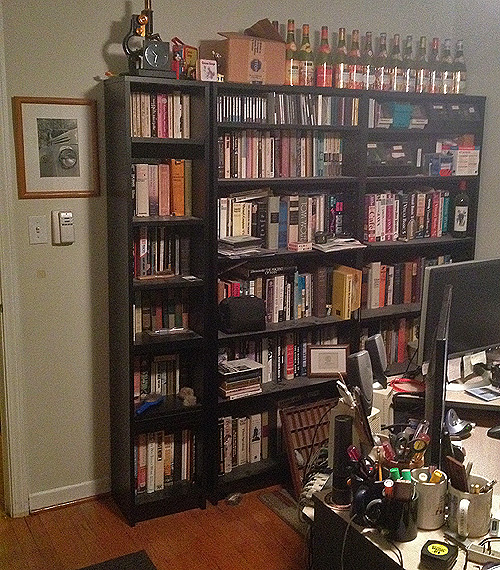 After: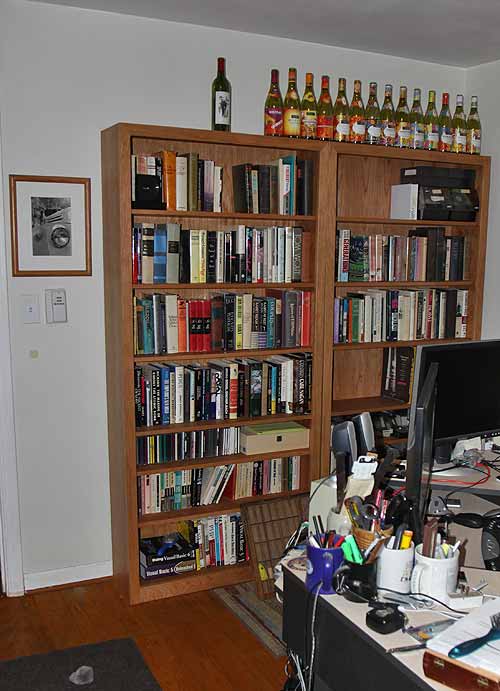 I gained about 3 feet of lineal storage, with much better looking bookcases. Very happy.
Count the shelves: Before, six. After, seven. Key to it all.
The stuff in front of the books is inconsequential; but I actually ADDED a few feet of (computer) books, and the shelves are still a little empty. Awesome!
Some random notes about this purchase:
While these are veneer cases, they are solid wood – veneer over plywood. No particle board.
Both the faceplate (the "frame" around each bookcase) and the front edge of each shelf (about 1/2-inch deep) is solid wood. So there are no veneer-to-veneer edges that can make this type of construction look less polished than solid wood.
Not sure what kind of wood the veneer is (ash? birch?), but it has a nice grain.
I opted for the cherry finish, in oil and wax (as opposed to stain and wax). Very happy with the look and especially the feel. Nice smooth – but not plasticy – look and feel.
Had bookcases delivered, and the delivery men – independent contractors – were very good (we have a tight staircase).
On the other hand, it took three tries to get confirmation of final payment (half up front, half on delivery). Kind of annoying.