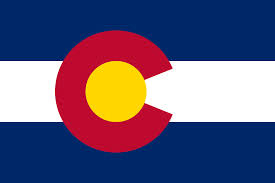 Great state flag – so contemporary, yet it was pretty much designed back in 1911 (tweak in 1965). See the history of the flag.
Last week – Sept 14th through the 18th – Romy and I were out in the great state of Colorado.
We flew into Denver – a nice airport, more on that later – and drove the hour or so south to Colorado Springs, out of which where we based our day trips.
Before I get into specifics, some generalities about Colorado Springs and the surrounding areas:
Colorado Springs is a perfectly nice city, but it's kind of a nothingburger. Maybe we missed something, but there was about a block or two of Old West Colorado Springs, and not much else. No real dinner spots and so on. Weird.
Again – not judging – but a lot of guys with ZZ Top beards; a lot of (especially younger) women with a lot of ink and various non-natural hair colors. Often worked, but just an observation. Reminded me of Seattle's denizens. Different than the Chicago 'burbs I troll around in.
With the exception of the spectacular areas we visited, the (roughly south of Denver, on the cusp of the prairie and mountains) part of Colorado we traveled around is pretty…un-pretty. Yes, some rolling hills, but just scrub pines and very little wildlife. I guess that's the "high desert" environment.
We (finally, long story) made it to the top of Pikes Peak (14k ft), but in this part of Colorado, everything starts at about 5-6k feet, so that puts altitudes in perspective. Colo Springs is 6k above sea level. Chicago? About 600 ft…
OK, with that said, here are some more details.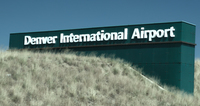 Denver Airport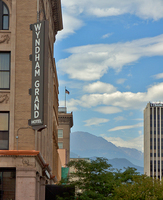 Wyndham Hotel, CO Springs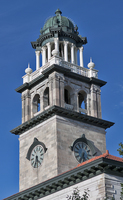 El Paso Courthouse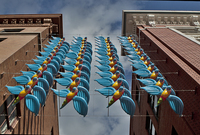 A flock of parrots…and we still don't know why
Day 1: Colorado Springs
As I mentioned, we flew into Denver – CO Springs has an airport, but way fewer flights – and drove to our hotel in Colorado Springs. The hotel – The Mining Exchange – is a fairly new Wyndham Grand hotel, and they did a nice job of converting an old building to a hotel. Props. (Romy wanted to pack the bathroom – especially the fully tiled shower – into her carry-on and take it home [and for good reason], but can you imagine trying to get that through the TSA?)
As I mentioned above, not really much of anything in CO Springs. The old courthouse near our hotel (now a museum) says that this area USED TO be the epicenter of CO Springs, and the new buildings popping up around the area (mainly financial corporations – Well Fargo, Charles Schwabe) indicate that the center is being changed, but – for a visitor – kinda bleh.
We had lunch at a nice brew pub – Phantom Canyon Brewing Company. Good (bar) food, great beer. But here's another sign that Colo Springs is in transition: The city was incorporated in 1886, but this brewery claims to be the oldest in the city: Since 1993! Sure, that's 22 years, but compared to the age of the city…
Overall, in our neck of Colo Springs, very few restaurants, especially considering the a fore mentioned (somewhat large) financial services buildings. Romy guessed that these buildings have cafeterias or food courts; I'd bet she is correct.
We wandered around quite a bit our first day in Colo Springs – this was our Colo Springs day; other days were day trips – and it really is an uninspiring city. Much of the city stuff we enjoy – neat architecture, oddball shops, interesting restaurants – just wasn't there. It wasn't unpleasant, it was just a "yeah, we'll never go back there again…"
One fun thing – for us flat-landers – is that you can look west on any east/west street…and there are the Rocky Mountain foothills. And just west of those foothills is Pikes Peak, looking like you could reach out and touch it.
One unanswered question: Where are the springs?
We had dinner at our hotel restaurant (more on that later); we each had a Caesar salad (I added crawfish to mine) because we didn't want anything heavy. Hit the spot.
Day 2: Pikes Peak/Manitou Springs/Seven Falls
Determined to get some good light, we left early for Pikes Peak – only about 20 miles from our hotel. At approximately the halfway point, we pulled into Manitou Springs to find a breakfast joint.
We had a bit of an issue finding a place, but with the smart phone and some other input we came across the Good Karma Coffee Lounge & Deli – which opened at 7am, which is what it was at the time. Score!
So, cue the Ugly Tourist. We can see employees in the joint, but the door is still locked. Well, their number is on the door, so I call them. They say they are open. I say I'm standing outside and the door's locked… Yes, Ugly Tourist. Like it would have killed me to wait the extra five or so minutes it might have taken them to get around to actually opening. Jeez….
Had a nice breakfast; a cop strolled in at about 7:20am (she probably understood the elastic time out there and would never get there at 7am); she gave us directions to the entrance to Pikes Peak (was sort of fuzzy on maps).
The Colo Springs area – like most areas – is pretty easy to get around in once you get your bearings (which is just about impossible in cities like Boston); however, before that it's a challenge.
Anyway, Pikes Peak opens at 7:30am; we got our tickets at 7:54am. (The peak is not a National Park, it's part of Pikes Peak National Forest.)
On thing that floored me when we were planning this trip is that you can drive/take a cog train to the summit – 14,000+ feet. I always (incorrectly) pictured Pikes Peak like the Matterhorn in Europe, a jagged peak whose summit is a square yard of rock accessible only by experienced climbers.
Not a Kia or a Chevy.
Yep, wrong.
The park entrance is about 8k ft; so the 20 mile climb brings one up another 6k – the summit is more than 2.5 miles above sea level. Again, for us flat-landers, that's something.
We got moving, because we (me) wanted to get to the summit early for the light; can always stop and shoot on the way down. We did stop here and there on the way up, but it way more of a charge to the top.
The road to the peak is well marked and the brochure handed out at the entrance shows the road, the mile markers, approximate altitude and so on. Nicely done.
We got to a series of switch-backs near the peak, and I took one last venture out of the car. Windy as hell. Pretty good view at this point; the sky was blue with clouds for 360° – except right over the peak. This should have been a warning.
We were just coming out of a switch-back, heading toward another (blind) switch-back when a black SUV came around said blind switch-back toward us and was crossing the center line. I told Romy to honk, and when the SUV got closer – and was edging more into our lane – to lay on the horn.
Turned out to be a park ranger (don't they have flashing lights); he said the summit was closed, as there were 70 to 80mph winds up there. We were hustled out of the park. As we left, the sign at the entrance had changed from just "have enuf gas" etc to "Open to Mile 13 [quite a bit below where we were] High winds above."
Ah well, we didn't get to the top, but we had a nice story.
So, we headed east back toward Colo Springs, and we went back to Manitou Springs – the (pretty much a tourist/artsie) town had now woken up. What we found.
Manitou Springs
Quirky little town; mostly just a main drag.
Kind of what I expected an older town in the foothills of the Rockies to look like. Very subjective.
Some interesting buildings – architecturally.
Manitou Springs appears to have a spring (how about that?). There is a well/cistern/whatever on the main road. I did NOT (my error) read about the spring(s), but OK, the names start to make sense!
Compared to Colo Springs, way more interesting: More authentic, rustic and so on. It was after Labor Day, so I'm sure it wasn't as active as during the summer, but stuff was not shut down that I could see.
We hit a tavern on the main drag – the Royal Tavern. Surprisingly, this is a locals bar. (You'd think it'd be a tourist trap.) Worked for us, but the Yelp reviews declare it a "dive bar." Yelp is not incorrect. But so what?
Since we had locals in the Royal Tavern, we asked for suggestions on what to see (remember, this was Pikes Peak day and we gots blown off the mountain….now what??). Most suggestions were stuff we had expected to do; but our bartender (a local) recommended Seven Falls (which we had heard of).
We ended up eating dinner in Manitou Springs, at BooDad's Louisiana Cafe. Food was…fine. I had blackened catfish – a staple in New Orleans – and it was…fine. Nothing more.
Seven Falls
A little weird. Seven Falls is a box canyon just south of Cheyenne Mountain. It's cut through the red granite of the region, with some nice formations (the "Three Amigos"). And – as advertised – it ends with a nice seven-tiered waterfall.
Why weird?
It's privately owned. We do a lot of "nature" on our vacations, and it's weird to pay to see wilderness. No complaint about the cost, which I don't remember – just odd. We had to pay to go up Pikes Peak, but it's part of a National Forest. This is, essentially, someone's private property.
Lighting, signage and plantings were almost Disney-like. Pictures I've seen show the falls painted in colors at night. Again, Disney. It's my understanding (from the Royal Tavern barkeep) that Seven Falls has undergone an extensive renovation, and it just opened recently [whatever "recently" means…]), and it kind of feels like that. Fresh plantings and so on. Nicely done, but … not as much nature as expected.
That said, it was a fun experience. Nothing remarkable, but enjoyable.
Your mileage may vary.
We also spend some time in "Old Colorado City," which is a made-up name: This is the older part of Colorado Springs, about 5-10 miles west of the downtown area in which we stayed (and I've whined about above).
Nice area, artsy/touristy, but in less a way than Manitou Springs, and more interesting – to me – architecturally.
And we found a great place for breakfast the next day!
Day 3: Garden of the Gods/Pikes Peak Redux
We (meaning me) want to get to Gardens of the Gods early to catch the early morning light. Fortunately, we had found what looked to be a perfect breakfast spot the day before in Old Colorado City: Bon Ton's. Looked like a place the locales would go, and with a menu a mile long and an opening time of 6am (before sunrise!), it seemed perfect.
And it was about a half-dozen miles from our hotel, at approximately the halfway point between our hotel and the Garden of the Gods.
Bon Ton's did not disappoint. Good food (I had biscuits and gravy; seemed like the place for same), friendly service, and perfect location for us.
We arrived at Garden of the Gods at approximately 7:30am, and, well, the place is amazing.
What is Garden of the Gods?
Glad you asked!
It's about 2 square miles of epic stone, sculpted by time, erosion and geological forces. A must-see.
My take on Garden of the Gods:
Like Seven Falls (see above), Garden of the Gods was once privately owned – in this case, by railroad magnate Charles Elliott Perkins. His will left the park to the city of Colorado Springs, with the stipulation that the parcel of land should remain free for all, and that no structures should be built on the land.
To date, Perkins' wishes have been observed. Land around the original park has been purchased, and a Visitor Center – a structure – is across the street from the park.
Wild sandstone formations, some soaring, some twisted, all beautiful under the blue skies we were fortunate to experience.
Rock climbing is permitted (with a permit); we saw a handful of folks heading for these odd-shaped formations. Probably a rock-climber's wet dream.
It kinda reminded me of the Badlands, with the weird geology. But the Badlands' formations tended to look almost temporary, like a strange sand sculpture a child would make on a beach. Gardens of the Gods' formations, on the other hand, looked like they'd last eons. Tall, formidable, unyielding – even the more slender formations.
Looking back at the pictures I took there, it appears we spent about three hours at the park – mainly walking on the paths (there are a handful of parking areas). We probably could have done more, but it was a great three or so hours.
We finished up Gardens of the Gods (went to the visitor center) by about noon; and … what now?
Both Romy and I had the same idea – hey, let's try Pikes Peak again!
We were only 10-12 miles from the base of the peak (everything was pretty close around there), and we failed to get to the peak the previous day, so let's try it.
We went to the base station (still had to pay the entrance fee – again!), and conditions were clear.
We drove up to the peak with no stops (wanted to make sure we got to top this day!); some pull-offs on the way down.
Pikes Peak Impressions
No drama here – we made it to the top! Whoo-hoo!
As I said earlier, it's weird to be able to drive to the very top of a 14K ft. mountain.
The view from the top was as different as the top of the peak was in my mind – I expected a jagged peak (wrong), ringed by slightliy lower but impressive mountains (wrong again). Pretty much from all sides, Pikes Peak is the sole high point – drops to lower elevations on all sides, with "mountains" in the distance. Kind of odd, to me.
We had noticed the temp drop as we went up the peak the previous day – but it was crazy windy. Still, we actually kept track of the temp (on our car's display) as we climbed to the top on this second try. On a very nice day mid-September at noon, the temp at the entrance (elevation ~8K ft), the temperature was 70°.
At the peak: A little windy, and 45°. Quite the swing.
Peak (and just below peak) is rock rubble. Mountain is (geologically) dissolving….
Cog Rail to the top…interesting
There is a certain smell to high-altitude sites, at least to me. Maybe it's the thinner atmosphere, but it's there. I smelled that both times I went to Mr. Rainier and when I went (via rail) across the Alps (Switzerland to Italy). Same smell here, and this is a much drier peak. Interesting, as well.
After running around on the peak, taking pictures from all angles…I got kind of dizzy, weak in the legs. Nothing tragic, but I could feel the effects of the thin air. Hey, where I live is about 2.5 miles lower than this peak.
Both days were were at Pikes Peak, there were a handful of folks bicycling to the peak. Whoa. I guess it's just for bragging rights, but, still, crazzzy. About three weeks after our trip, they may have reached the top..
Glad to have made the top – worth it. But it's not one of those things you want to do again. It's really not that scenic, as is the Mt. Rainier area (to me – more mountains, lakes and so on).
On the way down – below the tree line – there were nice stands of Quaking Aspens in golden autumn glory mixed in with the pines. Very scenic.
After "reaching bottom" at Pikes Peak, we headed home. Quick stop in Manitou Springs for a beer at The Keg (just your basic bar bar), and then back to our hotel. It was still fairly early, so we took another walk to the El Paso Courthouse (now museum) – it was closed on Monday when we first hit it.
Unfortunately, you can't tour the whole building (I wanted to get up at least near the copula, but no dice).
It was nice – but more for the architecture for me, and Romy for the exhibits – there was one that interested me, a look back at photography/cameras.
But not a "must see" by any means.
We had dinner at the self-claimed Cajun restaurant in our hotel, Spring Orleans. It was perfectly fine, but nothing at all remarkable. And certainly not Cajun. To be honest, I can't even recall what I had – looking at the menu I'd bet on the crawfish etouffee, but since I can't really recall, I guess that sums it up. Very disappointing.
Day Four – Royal Gorge & south/southwest of CO Springs
The Royal Gorge Bridge is one of the world's highest suspension bridges, spanning the Royal Gorge at a height of almost 1,000 ft. Cut by the Arkansas River, the extremely narrow gorge runs for about 10 miles along the river near Canon City, Colorado.
Fun facts/impressions:
To the best of my reading, this bridge was built as a tourist attraction in 1929, not for any functional need. Weird for a couple of reasons: 1) Sure, impressive…but in 1929 outside of Colorado Springs, who cares?; 2) Why this/here?
Very narrow gorge, with the Arkansas River and a train line next to the river at the bottom. The (current) train is for tourists only; can't speak to any former use – could well have been for tourists only from the get-to.
This attraction is kind of weird overall – you drive out in the middle of nowhere, there's a fairly short bridge over a very deep and narrow canyon and … that's it. Worth seeing, but not what I expected (was expecting more of something.
After Royal Gorge, we headed east toward…we really weren't quite sure. Aimed at Pueblo. Stopped in Canon City, a nice small town that's trying to revitalize its downtown, but will it work?? Also – this corner of Colorado (SW) seems to be prison central. There's a correctional facility at the west end of the main drag – Main Street – of Canon City, and the Florence Supermax (home to the UniBomber, among others). Why? Tax reasons?….
We talked with a local in Canyon City, and she was upset about how the downtown was being revitalized (didn't specify why – which was disappointed, I was hoping for crazy talk….). She mentioned Florence as a town that had done a good job of revitalizing the town. We drove there (on the way to Pueblo), and basically just drove through. No offense, Florence, but not a town worth stopping in…
Pueblo- we hit the Riverwalk part of town (seemed to be the old part of town; went into decay; has been restored/improved). Mixed bag – the architecture was great (old buildings restored/repurposed; hell, not flattened!), but the area – even with the Riverwalk, along the Arkansas – appeared rather dead and on the edge of "iffy" parts of town. But I did love the details of the old buildings that remained.
Day Five – Red Rock and going home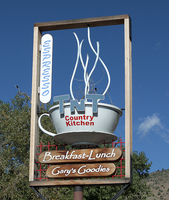 Friday was our last day in Colorado – we flew out of Denver International Airport. So, we had to check out of our hotel in the morning and see what we could in the little time we had.
We – as planned – ended up heading up to Red Rocks Park & Amphitheatre, in Morrsion, CO, NW of Denver.
We had breakfast at a great little place called the TnT Country Kitchen, just miles from the park. Good eats, and it seemed to be a "locals" place (this was after Labor Day on a Friday; so relatively few tourists).
Two takeaways from this park:
Great theater
Great geology – lots of rocks, shaped weirdly