In a death of a thousand cuts, Yahoo!'s circling of the drain continues with two more cuts over the last two days:
Things must be grim there.
Update 12/16/2010: Eep! Many properties getting the ax: Is Yahoo Shutting Down Del.icio.us? [Update: Yes] – Del.icio.us is a service I never used, but many swore by. Acquired by Yahoo! and (to me) instantly neglected. Again, Yahoo! is where start-ups go to die….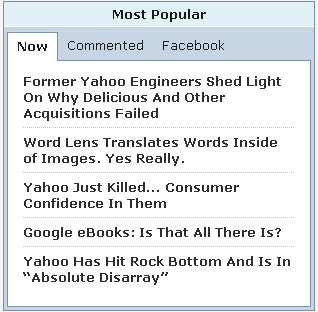 Update 12/18/2010 When TechCrunch is saturated with news of your decline (image, right), that's telling: