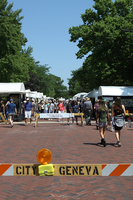 Geneva, IL Art Fair 2017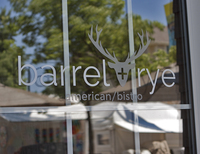 Barerel+Rye, Geneva, IL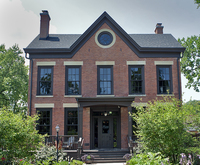 Patten House Restaurant, Geneva, IL
Over the weekend, Romy and I headed down to Geneva, IL for its annual art fair. We usually go on Saturday, but due to the threat of rain, we went on Sunday.
It was a nice day – clear skies (until we got home, when it poured) – but very muggy. It seems like it's always hot and muggy for this fair, but it's always at the end of July, so what did you expect?
It's usually a good show – five blocks of a north/south street shut down with booths on either side if the street. Lots to look at.
We ended the pass of the one side, and with the sun and humidity, it was time for a beer. So, of course, I pulled out my smartphone and looked for a tavern (what did we do before smartphones? I guess we had to, you know, "plan" stuff..). Worked out perfectly – the Barrel + Rye was right behind the tent we were standing next to.
The bar was OK – I had a good beer on tap, and the food I saw served looked solid (bar food: burgers, fries and such, but a little inventive). However, the real draw of the place – if you're into this (I'm not) – is their extensive drink list, specializing in shots of all manner of bourbon, rye and scotch. Rows and rows of choices.
Refreshed, we hit the second half of the fair.
It was a pretty good show – we didn't get anything, but that's not the point. For us, it's to get out and see something different. Geneva did not disappoint.
For lunch, we passed on the Mexican restaurant we've gone to – and enjoyed – the last couple of years, Sergio's Cantina (recommended), instead trying a place I spotted online, The Patten House. This is a historical house that was renovated into a restaurant – a Cajun restaurant – a few years back.
Turned out to be a good choice – both of us said we'd go back there again. A little on the pricey side, but good food and a nice atmosphere. (But I still think that it's weird that they only have a Facebook page, with no web site/menu listing. They've been around for a few years now. Whatever…)
In an odd stroke of luck, on the way home we stopped at a place I has spotted on Google Maps that looked interesting: BAPS Shri Swaminarayan Mandir, a very ornate Hindu temple. Didn't even know it existed.
Pretty extraordinary – the expansive grounds, the visitor center (Haveli), and the oh-so-intricately carved temple, the Mandir – both inside and out. I wish I knew a little more – as in basically anything – about Hindu relision and culture. Probably would have gotten more out of the visit.
The location has its rules – which is fine – but it costs nothing to enter, everyone is very polite, and the temple is really remarkable. Intricate carvings galore, and dropped into a wooded area in Bartlett, IL. Who'd have thunk?? I'll be adding some shots to the gallery as I get to it.