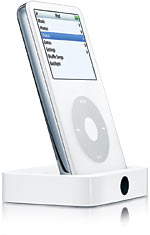 I'm probably somewhere around a month late joining this party, but just how stupid are media producers?
The latest riff is the record companies trying to break iTunes out of its 99 cents a song tack that Steve Jobs finds so pleasing. They want variable pricing, albums and they've even hinted that they want a share of iPod sales.
Are they fucking crazy?
Before iTunes, there was Napster, Gnutella, Limewire, Bearshare…
They all had fixed pricing, as well: FREE.
And if I recall correctly, the RIAA didn't take too kindly to them.
So along comes this snot-nosed head of a computer company and proceeds to turn the world on to paying for digital music. Yes, paying for it. (By the way, this snot-nosed kid is also head of Pixar, so he has a little experience with content creation.)
How did Apple do it? A one-two punch:
Elegant…nah…sexy digital players (iPods)
A well-designed, easy to use site that makes parting with your money a pleasure (iTunes)
And let's see, the cost to the record companies to supply tunes to iTunes is … virtually nothing. The music is already digital, just a feed of tunes, covers and so on. Hell of a lot less than shipping 80 lb. boxes of CDs to Best Buys around the country.
And let's look at that last sentence: "…around the country." iTunes is around the world. How many Creed CDs did you sell in the Balkans last year, Mr. Record Company Man? Probably got some iTunes sales, though, ja?
Here's the rap from the Clue Stick: Digital distribution changes everything. Get over it. Adapt or die.
While I don't know if ABCs decision to supply (a very limited number of ) TV shows to the new video iPod is a good or bad decision overall, but it's the correct step to take. Give it a test.
I'm not defending Apple nor am I a fawning admirer of Steve Jobs – and I'm typing this with only Linux and Windows boxes surrounding me. I just think Apple has done a brilliant job of anticipating – in many ways, influencing – digital needs and coming up with compelling solutions.
Record companies – ditto the big movie studios – are going to have to suck it back and realize they can't stick to their guns and pretend that it's business as usual.
Why not?
Some case histories:
Classified Ads (traditional media)
The fuel that runs most newspapers. Craiglist and Monster – two companies from out of nowhere – are eating the newspapers' lunch. (Monster's gotten a little arrogant lately; they might have the "I'm on top" mentality – which means they could hit a rough patch soon).

Egghead Software (traditional retailer)
While a tech-savvy company – selling computer software – it was, in part, rendered almost useless due to digital tools. Downloadable freeware, download – or purchase – Norton Anti-Virus online and so on.

Yahoo Maps/Mapquest (AOL) (digital media)
First hit on Google Maps – on the day it launched, believe me – was the "Goodbye Yahoo Maps/Mapquest" moment. I was map-agnostic before that day; no longer. Google Maps rule. NOTE: The same thing could well happen to Google Maps, but Google keeps innovating, trying. Partly because they know only the paranoid survive…
There are other examples – such as Wikipedia, and blogs, which are giving main-stream media a run for its money (literally!).
Let's say you're sorta convinced that the media companies are sorta clueless. Your next question could well be: Well, if it's digital, can't people just forward it to everyone, like that e-mail of blonde jokes Tiffany just sent to me??
Ah, DRM (digital right management).
Excellent question.
Here's the executive summary of what I think about DRM:
Any DRM can – and will be – broken. Realize this. Copying will happen. People xerox [note intentional use of trademark for verb] magazine articles and other print pieces that exceed fair-use today; ditto for digital tomorrow.
For most folks, even an imperfect DRM is all you need. Most people aren't going to go the warez site to download the crack for the Tivo file of Desperate Housewives. Some will; most won't.
Most people are willing to fork over a reasonable amount of cash to get digital content easily for the SINGLE following reasons: It's easier and I can understand how to do it.
Taken all together, this means that digital distribution is viable, sustainable and will be accepted by the mass audience if presented properly.
Suing teens and grandmothers – as the RIAA has done – is not, in my mind, a proper presentation.
But what do I know?
I think this will be one of those entries where I look back and either pat myself on the back (Damn! Forward thinking!) or slap myself upside the head (Were you talking out your ass??).
One issue left unresolved here: Why should iTunes dictate to the record companies and so on?
Simple: In the digital world, it's the (digital) distributor who runs things. Look at Google: Hell, people have sued (unsuccessfully, as far as I know) Google because changes to their search algorithm – an algorithm, not personal – have hurt their company's because the new algorithm drops their rank etc.
So the power of digital distribution is already acknowledged, to a certain degree. It's generally recognized that Pandora's Box has been re-opened, though there is no real consensus on what is flying out of that box (and the media companies seem to just be saying "close the lid, dammit!").
Fair use has not been properly addressed here, as well, but that's fodder for another entry.