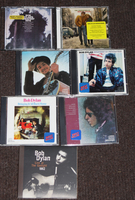 OK, dissed Delillo & Roth (again….).
Still a good choice.
Like him or not, Dylan is in many ways the voice of our generation. Covered by countless artists (Dylan and the Beatles are probably the most covered singers/bands), his music is secondary to his lyrics. And that's what won him the honor.
Masters of War
You fasten all the triggers
For the others to fire
Then you set back and watch
When the death count gets higher
You hide in your mansion'
As young people's blood
Flows out of their bodies
And is buried in the mud.
Like a Rolling Stone
You used to ride on your chrome horse with your diplomat
Who carried on his shoulder a Siamese cat
Ain't it hard when you discover that
He really wasn't where it's at?
After he took from you everything he could steal
How does it feel?
Tell me, how does it feel to be out on your own?
A complete unknown
Like a rolling stone
Like a rolling stone
Brutal – but Dylan could also be *shrug*
Don't Think Twice It's All Right
When your rooster crows at the break of dawn
Look out your window, and I'll be gone
You're the reason I'm a-traveling on
But don't think twice, it's all right.
…
I ain't a-saying you treated me unkind
You could have done better but I don't mind
You just kinda wasted my precious time
But don't think twice, it's all right.
There are not many like Dylan – off the top of my head, the other singer/songwriters who are writers first is a thin list: Paul Simon (Sounds of Silence), John Lennon (Imagine) and possibly Bruce Springsteen (Candy's Room, Born to Run, so many more).
Kudos to the committee for an outside-of-the-box choice that, to me, is oddly appropriate. And I'm a reader who's still steamed that Jorge Luis Borges never got the nod (and never will; he died in 1986 and awards go to the living). Brilliant writer.