When Romy and I went to the Naperville art fair earlier this month, we did the art fair and then did the River Walk – the path along the river.
As we headed west of downtown, we popped up near the aptly names "Quarry Lake" (hmm…wonder why it's there??). While we were wandering around the lake, we saw – slightly to the west – a large tower.
What be that?
It turns out to be the Millennium Carillon (in Moser Tower). Click the link if you're interested in specs/history; suffice to say that's it's one of the largest carillons in the world with a six-octave range, and that it was built to commemorate the new millennium.
We wandered over – it's a sorta impressive structure, just jutting up in the middle of nothing – to see what was there.
There appeared to be tours of the tower. Let's give it a shot!
I expected it to be somewhat of a tourist trap, a $15/per person charge or whatever.
I checked it out – $3/per person, last tour of the week starting in about 10 minutes!
I'm in.
There is an elevator – but only to the gallery level (about a third of the way up): After that, you have to take the stairs up to the top observation deck. We hoofed it the entire way. Gravity is a bitch! (Question: How did they get all the bells etc. above the gallery level without an elevator? Big-ass cranes, I assume…)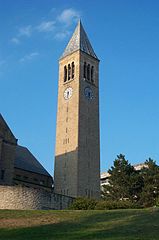 It was fun to see all the bells – the largest weighing in at about 32 tons (eep!) as well as the clavier that one uses to "play" the bells, using fists on mallets and feet on foot pedals. When I attended Cornell University, I was able to watch a mid-day performance on the McGraw Tower chimes (technically not a carillion), and let me tell you: Playing the bells there appeared to be a cardiovascular workout. Playing 72 bells – vs. Cornell's nine or so – as in the Moser Tower, I can't even imagine.
The view from the top was pretty…meh – no pic for same because, well, meh. This is Illinois, the view from a second floor window is almost as impressive. We gots a flat state, at least this part of it (Chicagoland area).
Still – for $3, why not take the tour? This was one of those fun, stumbled-upon finds. We didn't go to Naperville for this; we'll never do it again, but it was an unexpected, interesting diversion.