Last week, Romy and I ventured out west to the panhandle region of Idaho, flying in and out of nearby Spokane, WA.
Why did we go there? We had no good answer for that. Just to see what we may see.
Just a geographical refresher: Here is where Idaho is; the red dot is where we used as "home base" for most of the trip, Coeur d'Alene, ID. Spokane is just west of Idaho's state line on the same highway as Coeur D'Alene – the blue dot.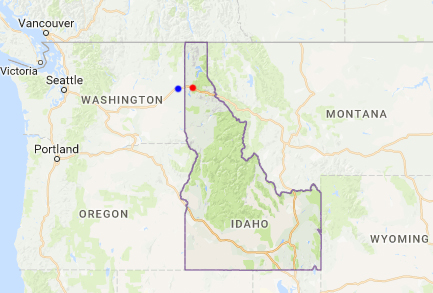 Not far from Canada, actually.
Here's the gallery of shots from the Idaho/Spokane trip.
Before I get into the details of each area we visited, here is a quick overview of what the trip/area was like:
It's a clean area: No smog/inversion layers; no garbage by the road; the only very occasional cigarette butt. Lakes we were on were clear even when deep.
Polite: People are friendly; even in the times of (minor) traffic, merging was not an issue. I don't recall hearing a single car horn like we have here (Chicago burbs) over and over.
Polite Pt. 2: Cross the street? Everyone's vehicles stop and let you cross, no matter if you're in a designated crosswalk or not. These folks are going to come to Chicago and get mowed down…
People: Pretty white, overall. Some Hispanics, some (possibly) Native Americans. Rare to see an African-American. And no dress up: It was rare to see a dude in a suit or a woman in a suit (especially with heels). Just the way it is.
Weather: We had great weather during our stay – clear and virtually no clouds (really!) at all. The only odd part – and this is probably part of the latitude and elevation – is the temp range. When we got up (say 6am) it was high 30s to low 40s, but ended up (by 4pm each day) to a high of 70 to mid-80s. And dry. Something the Chicago swamp dwellers are not used to (but like).
Scenery: Not craggy mountain peaks, but in foothills. Beats Illinois' flatlands in that respect. And as mentioned above, clean clean water – lakes and rivers. Not only clear, but no garbage. As it should be but …
Vitality?: Both Spokane and Coeur d'Alene seem to be trying to rebuild themselves. Some good; some bad. But better than letting either town fade away/deteriorate.
So – what did we see/find out in this region?
Coeur d'Alene, ID (and areas around)
For the first three days of our vacation, we hubbed out of Coeur d'Alene. Flew into Spokane, WA, on Monday and then immediately drove to Idaho.
We spent time in the city; it was also the "staging area" for our trips to areas around the Idaho panhandle.
Some observations:
Coeur d'Alene, ID: As mentioned above, the city seems to be in the midst of transitioning from and older city to a more modern one. Vestiges of each are visible. A waitress (a local) said the building started up about a decade ago and continues. There is a lot of buiding north of the city (near our hotel), malls and housing that could be anywhere in America. Closer to the lake – the downtown area – they seem to have made an effort to keep the tourist-charm look along with new construction. It's a mixed verdict. Right on the lake, there is an enormous resort/marina that really dominates the lakefront. On the other hand, there is a nice park area along the remainder of the lakefront, and they've kept Tubbs Hill – a mound-like peninsula that juts into the lake – intact, and there are trails, wooded areas and so on. So good there.
Lake Coeur d'Alene cruise: We normally hate this type of tourist trap – and yes, it sucked. Saw some weird/expensive properties on the edge of the lake (high value), but none of the wildlife promised (eagles etc). Was a boat full of very old folks (had a bar; most participated -good). And passengers seemed more interested in drinking/moving than seeing the (little) stuff the "cruise" offered. Avoid.
Sandpoint, ID: We drove north of Coeur d'Alene to this vacation city. Since we were there after Labor Day (mid-September), not that lively. Like Saugatuck, MI. Still, interesting. As was all of Idaho, clean, quiet and polite (in many ways).




Kootenai National Wildlife Refuge: Just west of Bonners Ferry is a wildlife refuge, that – in the spring – must be pretty spectacular. There are all sorts of marshes and grasses; the migrating birds must love it. At the time we were there (mid-September), there we're just some Canada Geese and the occasional hawk (which I didn't get a good picture of!). But it was pretty: The refuge is a flat area butting against rolling hills covered in firs/pines. With the exception of an occasional goose honk, oh so quiet…

Snow Creek Falls: After spending some time in the plains and marshes of Kootenai National Wildlife Refuge, we headed up in the hills that surround the area to hike to Snow Creek falls. After missing the entrance to the trail several times – it's marked only by a trail number – we made our way to the falls (there are upper and lower falls; we went to the upper falls). Nice. Easy hike, but man – this is an area where you could dump a body and it wouldn't be found for years, if ever. About a mile up (3000 ft. above the refuge), off an obscure road with little to no traffic, no cell reception, no easy-to-see markings. Middle of freaking nowhere. But pretty.

Kootenai River Brewing Co. : Somewhere between hitting the reserve and and falls — before we headed back south to Sandpoint and Coeur d'Alene — we stopped in Bonners Ferry (poulation 2,515!) for a beer. The Kootenai River Brewing Co., just across the street from the river, had great beer. They do like their craft beers out west (Idaho, Seattle and – especially – Portland, OR). No complaints by me!
Spokane, WA
We spent the last two days of our vacation (Th-Fri) in Spokane.
We left Coeur d'Alene early AM Thursday and drove to Spokane via the back roads (steered by Google Maps on iPhone 4s. Wow.). Short drive – about 50 miles.
We had approximately only Thursday to enjoy Spokane; we had to get to the airport mid-day Friday to fly out (another Google Maps adventure….).
Spokane – Washington state's second largest city (after Seattle, ahead of Tacoma; yeah, I was surprised, too) – is, much like Coeur d'Alene, a town in flux: Trying to build into the new century. Now, obviously, all cities are at least trying to modernize, but these two cities are doing it on steroids.
But they are two very different cities: Coeur d'Alene is a tourist city, sitting on the banks of a beautiful lake – Lake Coeur d'Alene. Spokane is a much larger city – it's population of 210,000 is approximately four times the size of Coeur d'Alene, and it's moving from a manufacturing base to a more service-based economy. For example, the hotel we stayed at was right across the street from a new convention center.
The city is bisected by the Spokane River – with upper and lower falls! – and it looks like the city is trying to make the river area much more visitor friendly. That'd be a good move – it's not a spectacular view, but how many cities have falls and an island right in the middle of everything? And the Great Northern Railway Depot clock tower – part of Riverside Park and visible from all over the city – is architecturally interesting. Note: The depot and any tracks are no longer around.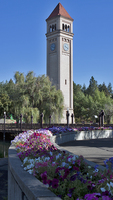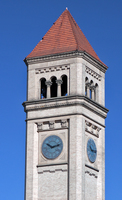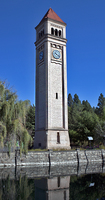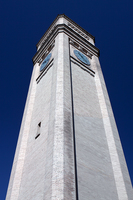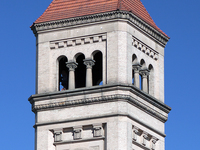 Great Northern Railway clock tower – various views
What we experienced:
River: Again, the Spokane River – with upper and lower falls (that I still can't keep straight) bisects the city, islands IN the river are parks…and so on. Spokane is working on this (OLD: hey – waterfalls, hydroelectric power; NEW: Riverwalk along the river/falls is bait for tourists…).
Cum Inn, Spokane Valley, WA: On our way outta Coeur d'Alene, ID to Spokane – just over the border from the Idaho panhandle west into Washington state – we ran past the Cum Inn restaurant. Not a joke; it's a thing.
Architecture: As I mentioned above, the city is transitioning, and the new buildings going in are nothing to get excited about (the convention center and performing arts buildings are well done, however). However, there are some older, quirkier buildings that merit mention: Central Steam Plant (now a restaurant; more on that later), the magnificent, concrete Monroe Street bridge above the lower Spokane River falls, the Romanesque (Renaissance Revival?) beauty of the Spokane Country Courthouse, as well as the Benewah Milk Bottle buildings (two! – one north of the river, one south).
Skywalks: The city has plenty of skywalks, including one decrepit one that looks like it was designed for Southern California in the 1960s. Could this be any uglier? Old brick buildings, horizontal and vertical lines….and a skywalk slapped against it with curves, sweeping staircase, concrete risers…ugh.
Old part of town: I could be wrong, but the area north of the river seems to be the older, more "neighborhood"-ish area. Most of the revival was along the river and south of same, the north was old, oddball shops and so on. That's where we found a fly-fishing shop where Romy got some flies for her brother. This is also where we saw our first Benewah Milk Bottle building. Fun stuff.
Just walking: Since we really didn't have much time in Spokane, we really didn't research much. We just kind of wandered around and saw what we could. Hit brewpubs, at a great dinner at the old Steam Plant (curried mussels for appetizer; salmon steak for main meal). Neat building, but we were – unfortunately – tucked away in a corner.
Manito Park: This was one area we drove out to – a botanical garden with a small conservatory and many different gardens – rose, Japanese, perennial. We couldn't cover all of it, but glad we didn't miss it entirely. Very close to the city, just a few miles south.
Would we go back to Spokane or the Idaho panhandle in general? Probably not – we've done it, and there's not much to draw us back. It was nice to have seen, but would rather try something new.
Where we
ate
on the trip – more for a reminder for Romy and me; if it helps others, great.
Monday lunch: Crafted, Coeur d'Alene, ID. Great meal (I even at the asparagus!) and good beers. Sitting out in the sun. We're on vacationI
Monday dinner: We were not that hungry (Crafted was a big meal), so we went to an Outback, where we both had salads (Caeser salads, I think).
Tueday's breakfast: Jimmy's Down the Street (website). We checked this out before we flew out; looked like a place where locals eat. Seemed to be so – two cops came in to eat – and the food was pretty good. One surpise. The coffee was exceptionally mediocre. Think a place like this would have killer coffee. (exterior shot)
Tuesday dinner: We wandered around downtown Coeur d'Alene, and finally ended up at a Mexican place, Toro Viejo (Red Bull). The food was good – and plentiful – and the margaritas were very good. Never got a picture of the place, interior or exterior. Go figger…
Wednesday breakfast: Headed out to Sandpoint, ID, and ate at Panhandlers Pies
Wednesday dinner: Cedars Floating Restaurant (website). This is a literally a floating restaurant on the north end of Lake Coeur d'Alene, where the lake meets the Spokane River. Great food (I think I had the salmon), and it's nice to sit next to the windows looking south over the foothill-wrapped lake. Recommended.
Thursday breakfast: On Thursday, we bid adieu to Coeur d'Alene and headed to Spokane. Near Spokane Valley, WA, we saw and rolled into Conley's Place, and Irish restaurant and bakery. Very good breakfast – I had the "give me a lotta meat" breakfast, and it was good. (Conley's Place exterior)
Thursday dinner: Last night of the trip, and we wanted to go someplace special – the Steam Plant Restaurant. The old steam plant, south of the river in downtown Spokane, WA, has been turned into a mall of sorts, with stores and such. This restaurant – also know as Stacks – appears to be the anchor (website). It's a great venue, with remnants of the steam plant left in place – pipes, gears, ironwork. And the food was very good – and as it was our last night out, I splurged and actually got an appetizer: mussels with curry sauce. Excellent. Beer was good, as was my entree (I thought I had swordfish, but I can't [months later] find it on the menu. Maybe it was a special). Again, recommended.
Friday breakfast: We didn't have much time in Spokane on Friday, as we had to fly out, but we had found a bar on Thursday – the Post Street Ale House – that, in addition to good beer, advertised breakfast. So we ate there fairly early Friday morning. I can't recall what I had – I think I had biscuits and gravy, but not sure. Whatever it was, it was good.
Friday lunch/dinner: We flew out of Spokane, WA, airport and then had a layover in Minneapolis (had the same layover on the way out; downside to going to where everyone else isn't). We got hungry, so we at at one of the many restaurants there. It's odd (and cool), but the whole airport is tricked out with iPads – you order food via iPad, swipe the card reader to the left (pad and reader circled) and your food is brought to you a few minutes later. Tip is included, so you don't need cash. You can even punch in your flight number on the iPad, and it'll give you reminders about your flight status. (What happens if you don't have a credit card? I dunno. Maybe you have to eat at the bar and there is a register there.) The food, while (of course) overpriced, was pretty good. No complaints. Interesting experience, one that I see becoming more mainstream in airports and other places moving forward. Machines never sleep, don't need breaks or benefits.
Looking back over this trip's pics – especially where we ate – I'm noticing that I took fewer pictures inside places, and – especially – of our meals (did get a few beer pics; that's nice). While I was trying to cut down on taking a camera to dinner, I still have my phone camera. And when we go for a beer or whatever, sometimes interior pics are nice. They remind you of where you've been.
Next time, I'm going to try to be a little more pro-active in this area. Just sayin'…