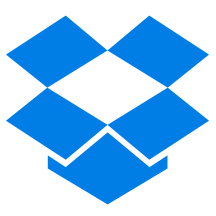 I signed up for Dropbox over the weekend. Here are some first impressions, fresh off the install/uploads:
I bought the Pro plan (100G; $99/year [prepaid]), so if you're using a different plan, your mileage may vary, but I doubt it.
Install a breeze (Windoze 7).
I have good backups at home, but I wanted an off-site backup for my digital pics. Dropbox seemed to be the best solution for me.
It took over 30 hours for the initial upload (~65G of images), but the process was smooth, indicators on the local box and web site kept me informed of what was going on.
Very, very seamless. It's like having a folder called "dropbox" on your machine (actually, that's exactly how it appears on your PC) – except it goes to the cloud, so copy work there. (I haven't had to pull anything out of history yet; that'll be another story.)
Dislike No. 1: I uploaded two folders; one with just loose pics, the other with multiple directories. I expected – at both high level and in drill down – a way on the Dropbox.com site to see the number of files in given directory, perhaps the size total etc. (like a PC). Nope. Kinda disappointing.
Dislike No. 2: I kind of expected the local Dropbox folder to act like rsynch (which, behind the scenes, it probably uses), where you put 10 files in the folder – nine old and one new – and it would examine all 10, and just upload the new one (or another file if it had been modified). But it acts like a PC file system, saying this file already exists etc. Probably good for most users, but not what I was expecting.
The slideshow feature (on the web) is remarkable. I think I like Flickr's better (link is Cornell's Birdshare Flickr account), but this does a tremendous job. As mentioned above, I just uploaded pictures, and … nicely done, Dropbox!
That's all I have right now – overall, a very positive experience (and if I was doing the free service, it would be really awesome!).
Update 11/28/2013 – After I put my photos in the cloud, I decided to move my iTunes there, as well. Another 17G+. I upped my account to 200 Gigs; worth it? For peace of mind, yeah. Cheapest offering? Nah, but I'm looking for hit-by-a-bus backup. I like Dropbox – and for those of you out there who need just 5G or less, by all means use their free offering. Slick.