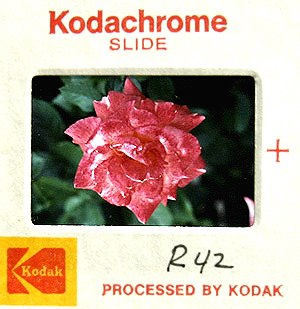 I'm behind the curve here, but Kodak (not surprisingly) has decided to end Kodachrome production. The company announced the end of the product line June 22, 2009. Depending on how people hoard the film, the last rolls of the rich-color products will be sold sometime in the fall.
End of an era.
Come on – how many other products have a pop song* written about them?
Kodachrome
They give us those nice bright colors
They give us the greens of summers
Makes you think all the world's a sunny day, Oh yeah
I got a Nikon camera
I love to take a photograph
So mama don't take my Kodachrome away

— Paul Simon, "Kodachrome" from the album There Goes Rhymin' Simon
I took this picture in England in 1979 – 30 years ago! (Yes, this was the 42th slide roll I shot!) And the color is still strong, better than the Ektachromes I shot there. (Pic looks crappier than the original; I just held it in my fingers and hand-held a digital pic of same – balance off; the rose is vibrant and bright.)
I loved Kodachrome – slow (ISO 25 and 64 – I think Kodak tried a 100 which didn't catch), but the colors were brilliant. Especially for people and anything with rich color (esp. warm tones), Kodachrome kicked ass. And the fade resistance (for slides) is second to none. Only Agfa slide films (again, warmer) are even close to the same. Kodak Ektachrome and Fujichrome (both better with greens/blues respectively) just don't age as well. Agfa was much grainier, however (really only to the experienced eye, however).
I haven't shot film (slides) for years, so it's not that big a loss to me: I'm digital now.
But the memories linger…momma don't take my Kodachrome away…
* Two others that come to mind are Barry Manilow's "Mandy" (slang for some kind of tranquilizer, I believe), and Neil Diamond's "Cracklin' Rosie" (name/nickname for some cheap wine).